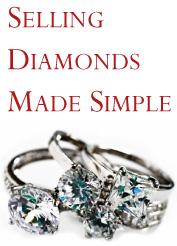 THE PROCESS IS SIMPLE
Sell Diamond Ring, Engagement Rings, Loose Diamonds and Other Jewelry
In order to get started selling diamonds, rings and jewelry, simply fill out and submit the form to the right. You can get fast cash for diamonds by selling diamond rings and jewelry. A Diamond Assessment Package will be mailed to you within 24 hours. After receiving this package, ship your items back to us in the secure, prepaid, packaging provided. Upon obtaining your shipment, the evaluation team will assess the value of your diamonds and issue payment. A check will be mailed to you within 24 hours of receiving your diamonds.


The quality of a diamond is determined by the 4 C´s. Our experienced evaluation team will take these characteristics into account when assessing the value of your diamonds.
We have perfected the process of buying diamonds. We have been in the business of evaluating and buying diamonds safely and securely for over 20 years.
We specialize in purchasing your old, outdated, out grown, unwanted or broken diamond rings. We are also happy to accept all other forms of diamond jewelry. See our list of items.



* Required Field